Slovak Early Music Database – Cantus Planus in Slovacia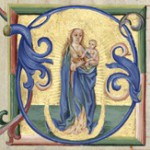 focuses on making accessible the oldest manuscripts and fragmentary preserved notated sources from Slovakia in form of the full-text database in English language. From 1999 we process basic source material of the medieval music culture from Slovakia from the time period of the late 11th century to the beginning of the 16th century at the Institute of Musicology of Slovak Academy of Sciences, in collaboration with other scientific and educational institutions (Catholic University in Ružomberok, Comenius University in Bratislava). Since in Slovakia retained only the minimum number of medieval notated manuscripts (15 codices), an area-wide source research of medieval notated fragments in all archive, library and museum places has been carried out since 2006. Rediscovered, identified, digitized and processed were nearly 600 medieval notated fractions. Since 2012, the database is part of an international central network of medieval liturgical texts and music sources databases.
CANTUS Index is a central catalogue of medieval chant texts and melodies for Office and Mass. Six online medieval music databases, national and international, have been connected together: CANTUS Database (Debra Lacoste, Canada), Portuguese Early Music Database (Manuel Pedro Ferreira, Portugal), Slovak Early Music Database (Eva Veselovská, Slovakia), Gradualia Project (Gábor Kiss, Hungary), Fontes Cantus Bohemiae (Jan Koláček, David Eben, Czech Republic), Cantus Planus in Polonia (Bartosz Izbicki, Poland), Cantus Ultimus (Ichiro Fujinaga, Canada), Comaratio (Calire Maître, France), Musica Hispanica (Carmen Julia Guttiérez, Spain), Gregorien.info (Inga Behrendt, Gerald Missiaen, Bernhard Schmid, Germany), and Antiphonale Synopticum (Harald Buchinger, Germany). Great added value, resulting from collaboration of multiple experts and institutions, is achieved by the unification of terminology, systemization, and a unique "Cantus ID" numbering system. While each database is represented as an independent subject, their contents allow for cross-comparison via the Cantus ID numbers.